Posted by Heather Hammel on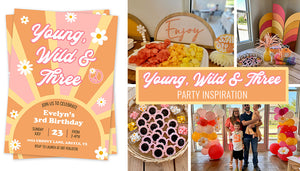 Oh, what it's like to be young, wild, and THREE! This groovy hippie boho birthday theme is so fun for any flower child. My neighbor, and friend, has a knack for decorating her kiddos' birthday parties in the cutest ways and this is her latest party! I love getting to be part of their special days by creating the invitations and printables to go along with their party theme. Check out this adorable birthday party inspiration from little Evelyn's celebration below! Disclaimer: this post contains affiliate links Decorations Wood accents, white daisies, pink, yellow, and orange colors throughout, and peace...
Tags:

60s, Birthday Party, Daisy, Flower, Flower Child, Girls Birthday, Girls Party, Groovy, Hippie Boho, Orange, Peace, Pink, Retro, Yellow, Young Wild & Three
Posted by Heather Hammel on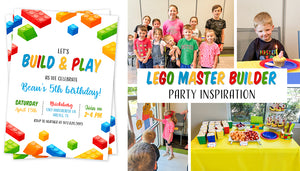 Our family LOVES playing with Legos, and I know there are many other families like ours out there. This year my youngest son decided he wanted a Lego themed birthday party, and it turned out so cute. Take a look at the simple ideas I used to make this master builder birthday party a hit! Disclaimer: this post contains affiliate links. As an Amazon Associate, Heather Hammel earns a commission from qualifying purchases at no additional cost to you. Note: Although this content features LEGO, it is unofficial. LEGO® is a trademark of the LEGO Group of companies which does not...
Posted by Heather Hammel on
Is your kiddo an outdoor explorer? If so, break out the tent, s'mores, get outdoors and throw your child an awesome camping themed birthday party! Now that the weather is warmer, a camping birthday party is the perfect theme for those active kiddos.