Posted by Heather Hammel on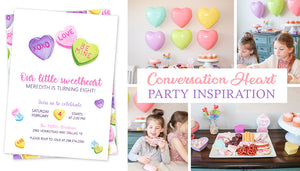 February is the month of love and I LOVE this sweet and simple party idea whether it's for a birthday party or a Valentine's Day party! Check out easy and adroable decoration ideas as well as quick and fun party activities for this theme.
Posted by Heather Hammel on
The holiday of love is fast approaching! Soon you will be on the hunt for not only a gift for someone special, but Valentine cards for your little ones as well. My twins are in preschool and they LOVE receiving sweet Valentines from their friends! And because my daughter wants to be a ballerina when she grows up, I just had to make these adorable Ballerina Valentine Printables. These Ballerina Valentine cards are super easy to print and cut out! If you have a decent home printer you can print on heavy cardstock paper (recommended if you want them to...