Posted by Heather Hammel on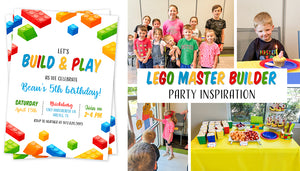 Our family LOVES playing with Legos, and I know there are many other families like ours out there. This year my youngest son decided he wanted a Lego themed birthday party, and it turned out so cute. Take a look at the simple ideas I used to make this master builder birthday party a hit! Disclaimer: this post contains affiliate links. As an Amazon Associate, Heather Hammel earns a commission from qualifying purchases at no additional cost to you. Note: Although this content features LEGO, it is unofficial. LEGO® is a trademark of the LEGO Group of companies which does not...
Posted by Heather Hammel on
Is your family as excited for fun summer activities as our family? My oldest two (they're twins) finished kindergarten in May so this is our first year where summer is actually a break for us. So, to kick off our summer, I decided to make a SUMMER BUCKET LIST! Filling out a summer bucket list is a great family activity to start off the school break and it also gives you some sort of plan on what you all want to do before getting back to the hustle and bustle of school/work. How cute is this easy to use printable?!...